eTrueNorth Ranked for Second Consecutive Year on Inc. 5000 List of Fastest-Growing Private U.S. Companies
Company secures No. 14 position nationwide and No. 4 in Texas
Fort Worth, Texas, Aug. 15, 2023 – eTrueNorth, a healthcare services company committed to improving access to basic health and wellness services for every individual through a curated network of retail pharmacies, has again been named to the Inc. Magazine 5000 List of Fastest-Growing Private U.S. Companies. Named as No. 4 last year, eTrueNorth's reported 42,428% growth from 2018-2021 led to its position in the top five in its first appearance on the list; this year it remains in the top 15, coming in as No. 14.
Image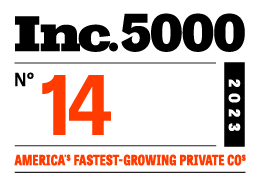 Founded in 2013 by Coral S. May and Michael McEntee, eTrueNorth was instrumental in setting up and managing large-scale testing operations across the country in the early days of COVID-19 and throughout the pandemic. eTrueNorth's technology infrastructure is designed to help pharmacies implement critical healthcare services, including point-of-care testing, vaccination and employee screening.
"The need for improved access to basic health and wellness services is well established. We believe the pharmacy represents a unique coupling of trust and convenience – two things critical to the American public," said Coral S. May, co-founder and CEO of eTrueNorth. "We strongly believe in the untapped potential of the pharmacy space. One of our current priorities is using our broad network of pharmacy partners and expertise in pharmacy-based policies and procedures to offer testing programs for health plans to address unmet care gaps. But our momentum will not stop there, eTrueNorth is defined by innovative thinking, and we will continue to pioneer novel ways to make healthcare accessible and convenient for all."
To qualify for the Inc. recognition, companies must submit financial and operational data to be evaluated against corporations nationwide and featured in the September issue. Information about this year's list is available on the Inc.com site.
About eTrueNorth
eTrueNorth's mission is to provide access to basic health and wellness services to every individual through a curated network of retail pharmacies. By empowering local pharmacies to administer preventive healthcare screenings and close gaps in care, eTrueNorth works in partnership with retail pharmacies, self-funded employers, and third-party payors to improve access to care, identify undiagnosed conditions and better manage chronic diseases. eTrueNorth is Fitting Healthcare into Everyday LifeTM and can be found online at etruenorth.com.
Contact: